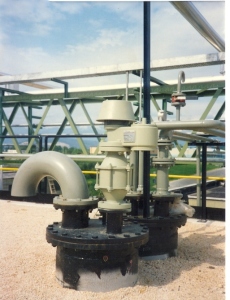 Breather valves are installed on tanks to reduce the loss of product due to the evaporation and to protect the tank from variations of internal pressure.
In the tanks containing flammable products breather valves are installed with a flame arrestor.
Pressure and vacuum relief valves have these special features:
– side-by-side pallets for easy maintenance
– replaceable seats
– increased sections to optimize gas flow
– self draining body and pallet
– safe movement of the plate in all conditions
– protection mesh to avoid introduction of foreign bodies
– stainless steel data tag
– ANSI or UNI flanged connections
With the experience Lupi Augusto has designed a wide range of breather valves. Each customer can find the solution that can fulfil his requirements.
SERIES 300.1 Cast Aluminium with Neoprene®, Viton® or Teflon® gaskets and diaphgrams. Seats are in aluminium or teflon coated aluminium to obtain high corrosion resistance and to avoid the blocking of the diaphragms on the seats in case of exposition to high temperatures.
SERIES 300.2 Welded construction in carbon steel, AISI304L or AISI316L, Viton®, Teflon® or Neoprene®  diaphragms and gaskets.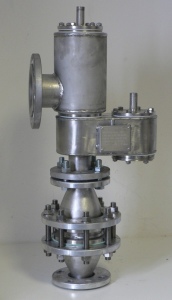 SERIES 300.3 Pressure vacuum release valves for highly corrosive fluids in PVC, PEHD, Teflon®, PVDF®.
The production in also compled by a series of special purpose spring loaded valves and special materials valves.