Manhole covers – emergency relief valves are installed on low pressure tanks to assure fire emergency flow and to permit the access inside the tank for maintenance.
In case of fire exposition of the tank inner pressure will increase and the flow of gasses exceeds the flow rate of breather valves. The manhole cover – emergency relief can cover the need of this increased gas flow and will protect the tanks against any damage.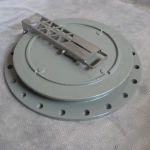 The size of the emergency relief valve should be designed relating the the wet surface of the tank according the API Standard 2000. Lupi Augusto Series 501.1 e 501.2 manhole covers are designed with a flanged body and a cover that is free to open when exposed to high pressure.
All gasket are in Neoprene, PTFE or VIton. Standard dimensions are 20″ and 24″ with API 650, ANSI 150 or UNI PN10.