Chainwheels are used to operate on valves in high and not reachable locations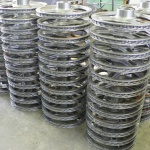 .
FIG. 700 Lupi Augusto chainwheels are made with a special profile ductile iron wheel and a calibrated galvanized chain.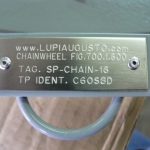 They are clamped on the valve handwheel by three special u-bolts to fit the diameter of the handwheel. Lupi Augusto chainwheels are supplied with a safety cable to prevent serious injury to the operators. Lupi Augusto chainwheels are epoxy coated with galvanized steel hardware. Chainwheels are made in four standard diameters to fit on handwheels from 130 to 750mm. Special clamps can be provided to extend the operational diameter to 800mm.
Aluminium chainwheels are available to fit handwheels from 130 to 240mm.